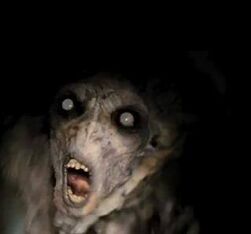 Scran Daily News
Edit
Yesterday, we had an incident in The Corridor of Incidental Accidents. According to the witness statement given by Guest: #607 Fiona Phillips, whom lives in the same Quarters as Scran, she says "I left my door open because I cooked breakfast. It got really smoked out. I opened my windows but it wasn't enough.


Because Fiona left her door open letting the smell flood the quarters, Scran awoke. We have a camera in Scrans padded safety room. It snapped this photograph just before he broke free. Fiona also states "I could hear Scran waking up and I knew I made a big mistake. I tried barracading my door from the inside but when I pushed the sofa towards the door, he was on the other side,  - she didn't carry on.


Fiona now sleeps in a different Corridor. Far away from Scran. Scran remembers eating her legs off and trashing the whole place in seconds. He was starved and Fiona DID know better. Scran was only doing his job. We have praised him with lots of scraps leftover from Itch-Eyes last encounter with Wype. Whatever the scraps are - Scran loves them.