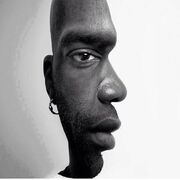 About 'Half-Jahaff'
Edit
Half-Jahaff came to The Mansion at early doors this morning, 5AM.
A very confusing face, neither looking forwards or sideways, Jahaff has us all bewildered.


The body is exactly the same, Jahaff has the shape of both here and there, giving him a scientifically impossible posture, yet possible, somehow...Half-Jahaff asked if he could be a worker here alongside Barry and Eugene, but we told him his name isn't common enough. Jahaff is too tricky, and Hugh commented, 'It sounds like Jaffa Cake,' and though it doesn't entirely, it kind of does, too.


Jahaff however, will be used at The Mansion - in the quarters of Twisted Fear.


Twisted Fear is where the dead babies of Dead Babies and Cardboard Manufacturers comes from. These quarters are controlled by the aforementioned deceased babies and/or toddlers, who create cardboard tubes for BnK toilet roll and things alike. Most recently, Twisted Fear sponsored an appeal to donate money to the Dead Babies for better working apparatus such as heavy machinery and smarter tools - this is where Half-Jahaff comes in.


The front-side face of Jahaff will have the babies working day in and day out, and much like his original wish, we will have Barry and Eugene visit him on a daily basis, and also deliver exactly 17 Jaffa Cakes a day to Jahaff.