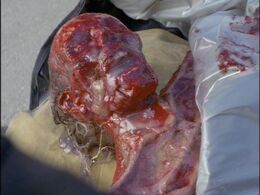 About 'Melty-Face Wallace'
Edit
Ridiculed for the way he looks, Melty-Face is named after his extremely sore and brutal condition known as Skeleitus. Wallace was born that way and never managed to grow any skin, he is now 34 and has to spend 8 hours a night in a casket water bath in which he sleeps in purified water to replenish the moisture of his body for the following day.


Wallace is a nightmare to look at and is living in the Scientific Quarters, Ward: F undergoing some final touches before being released into the Corridors of The Mansion.


The expertise in surgery performed by Doctor Ahmed Demha allows Melty-Face to survive an extra 12 hours without being submerged in his water bath. Melty-Face will walk the Corridors leaving slimy naked footprints behind him as he slowly hunts whoever his prey may be. The moisture on Melty-Face's body is really sticky, he will mount you from behind and clumsily jump onto you from behind, touching and molesting you as he becomes freakishly horny due to a lifetime of no love.


When Melty-Face's slimy and sticky penis erects, you can see the muscle of it binded with a large pulsating purple vein. The semen comes within 30 seconds so getting Wallace off you is a very important factor. Semen also gushes through his mouth in big pools of gloopy and yellowish cum that sinks purely of blue-cheese (rotten).


Melty-Face will be released tonight, once The Rake has finished with his victims and has left the building.