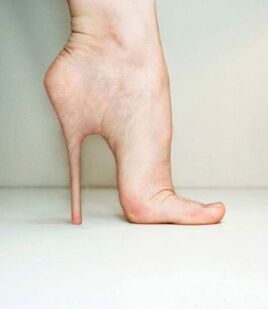 Skin Heels - Product details
Edit
From the creators of BNK Outfitters comes another groundbreaking invention!
The 'free' heel known as Skin Heels.


Scientist Ruben Kruschvelt had an idea to stop his wife from buying ridiculously expensive shoes every weekend, which resulted in a struggle for paying the mortgage and general bills of their Family home. Ruben was a genius, and his wife is a silly woman for testing his expertise in Scientific Studies. He used his actual wife as the test subject and the results were mind blowing.

In this photograph of Ruben's wifes foot, we can easily see that the foot has been shaped entirely into a sturdy heel-shape. The extra bits of human flesh consisting mainly of the heel area, to secondly the bridge arc of her foot are made entirely of human cells connected to eachother in a mould of mixed human flesh.


The flesh was gathered from the deceased victims of the Morgue. No harm done, although Ruben did use at least 3 different bodies to perfect his invention.


The idea is for the woman to wear stylish socks or tights over the heel shaped foot. For a formal situation, the Skin Heel will look best with tights, with accessories such as buttoned straps or silk bow ribbons. Informally, the woman can leave the Skin Heel naked or purchase special BnK socks that fit the heel shaped foot perfectly.


Ruben Krushvelt charges £10,000 (BNK50,000) for the procedure. He has already had calls from very famous celebrities and modelling agencies. Success!