Are your doors constantly closing by themselves?
Are your doors just too heavy to stay open?
Well, worry no more. The Resistant Materials BnKorporation have been building furniture from spare parts that lie discarded around the Mansion of Delights, creating WONDERFUL pieces of art such as?
THE ABDOMEN DOOR-STOPPER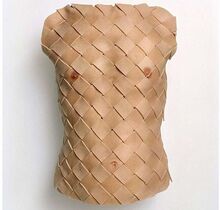 For just $3,000 you can send your loose abdomens to the ResMatKorp and they will take just 1 week crafting your new door-stopper.
Day 1: Scoop innards out and clean the inside Day 2: Varnish flesh and freeze overnight to prevent decaying Day 3: Defrost body and use solidifying anti-decay paste Day 4: Slice the skin and dampen with watered vinegar Day 5: Weave the skin back together Day 6: Finishing touches and safety tests taken Day 7: Dispatch to customer
*The photograph below is/was Richard. He is now a professional door-stopper and his new owners had this to say: "I've honestly never seen the like. I can tell you one thing though, my door stays open or closed with my very own Richard standing guard. It's the best $3,000 I ever spent."
So, if you have a loved one that you can't stand - but will 'stand' for you, then come on down and buy your very own Abdomen Door-Stopper TODAY!!